Solutions
For stores that sell online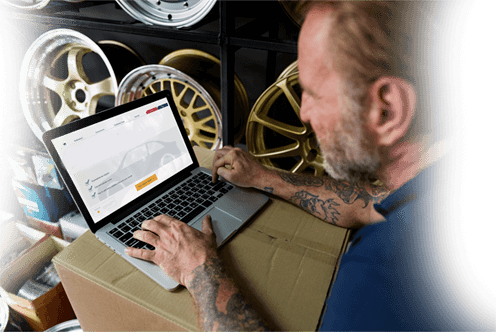 We offer high-quality combined prices of all well-known suppliers, correctly set delivery times, all price offers on the market, including in different currencies. You do not need to customize the import of suppliers' prices, or look for crosses, pictures of goods - we have already done it for you. That is, you can always choose the best price with the right delivery times. In the order it is possible to specify the car of the client and next time the system will substitute data on this car for this client. Orders from your site will immediately be displayed in the accounting system AutoSelling, and from it you can directly send orders to the supplier without transferring anything manually. SMS-mailings, integration with delivery services, accounting, reports, automatic sending of your product offer to trading platforms - all this is implemented simply and conveniently. After all, simplicity and thoughtfulness are our advantage. You can easily integrate your existing site with the AutoSelling system via the API or order a ready-made site from us as a service.
For stores with a warehouse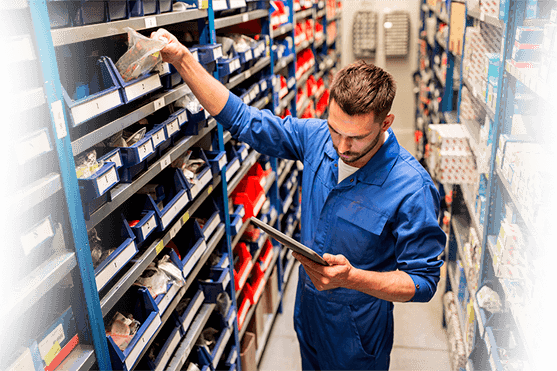 If you have a warehouse for several thousand positions, employees, the optimal planning of the range, maintaining its own database of analogues, comments for selection will be much easier. The system is able to automatically import invoice files from 14 major suppliers in Ukraine. Working with barcodes and product groups, selection of spare parts by original number or words from the name - all this is basic functionality. In the customer stories there is a video where one of our customers demonstrates how to find the right product and its analogues of different brands in a few seconds. to the warehouse, as when trading on 1C. If you do not have a position, but it is often sold - the system itself will tell you that it is worth ordering in the range. There are several types of loyalty systems to choose from (discount groups, bonus accounts and manual discount).
For car services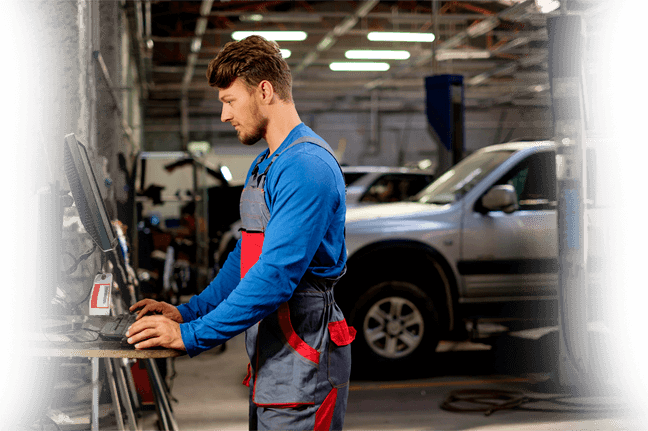 If you manage a car service, in addition to very simple selection and ordering of spare parts, you can easily record customers and display it through the Google calendar, see the load of posts at a particular time, calculate remuneration based on one system and remotely control service load. Extract of documents, history of works and sold spare parts will now be in one system. You will be able to see the availability of spare parts in the nearest suppliers' warehouses and reduce the downtime of the car at the service.
Migration to AutoSelling
There is nothing more important for business than the right and timely decision. Moving to a new accounting system such as AutoSelling is just one such solution. Becoming our client you will receive:
A specialist assigned to you to support at all stages of migration and adjustment of work.
Built-in software cash register.
Consulting on the business processes. Staff training and direct contact with your support specialist.
Assistance in setting up equipment, printing forms and integration with vendor sites.
Yes, all this is included in the subscription price. You not only get access to your system, you will have a reliable, supported, business tool that will bring additional profits for many years. So you can plan the work of the business, we will take care of the migration to AutoSelling.
Tariffs
14 free trial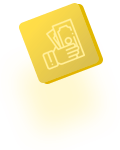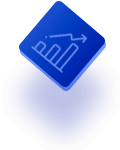 14 free trial
Cost per month with annual payment
Cost per month for monthly payment
Built-in software cash register
Number of users
Branches: shops and service stations
Automatic import of prices from suppliers
Integration (web-API) with an existing site
Internet site with an online store
Integration with Nova Poshta
Exporting the price for a third-party site
SMS informing and mailing
Start
14 USD
15 USD
Yes
1
-
-
-
-
-
-
-
Basic
27 USD
30 USD
Yes
3
-
1 type
Yes
-
Yes
1 type
Yes
Profi
55 USD
60 USD
Yes
10
1
7 types
Yes
Yes
Yes
2 types
Yes
Business
80 USD
90 USD
Yes
15
3
20 types
Yes
Yes
Yes
Yes
Yes
Unlimited
Negotiable
Negotiable
Yes
Unlimited
Unlimited
Unlimited
Yes
Yes
Yes
Yes
Yes
Start
Cost per month with annual payment14 USD
Cost per month for monthly payment15 USD
Built-in software cash registerYes
Number of users1
Branches: shops and service stations-
Automatic import of prices from suppliers-
Integration (web-API) with an existing site-
Integration with 1C accounting 8.3-
Integration with Nova Poshta-
Exporting the price for a third-party site-
SMS informing and mailing-
Basic
Cost per month with annual payment27 USD
Cost per month for monthly payment30 USD
Built-in software cash registerYes
Number of users3
Branches: shops and service stations-
Automatic import of prices from suppliers3 types
Integration (web-API) with an existing siteYes
Integration with 1C accounting 8.3-
Integration with Nova PoshtaYes
Exporting the price for a third-party site1 type
SMS informing and mailing-
Profi
Cost per month with annual payment55 USD
Cost per month for monthly payment60 USD
Built-in software cash registerYes
Number of users10
Branches: shops and service stations1
Automatic import of prices from suppliers10 types
Integration (web-API) with an existing siteYes
Integration with 1C accounting 8.3Yes
Integration with Nova PoshtaYes
Exporting the price for a third-party site2 types
SMS informing and mailingYes
Бізнес
Cost per month with annual payment80 USD
Cost per month for monthly payment90 USD
Built-in software cash registerYes
Number of users15
Branches: shops and service stations3
Automatic import of prices from suppliers20 types
Integration (web-API) with an existing siteYes
Internet site with an online storeYes
Integration with Nova PoshtaYes
Exporting the price for a third-party siteYes
SMS informing and mailingYes
Безлім
Cost per month with annual paymentNegotiable
Cost per month for monthly paymentNegotiable
Built-in software cash registerYes
Number of usersUnlimited
Branches: shops and service stationsYes
Automatic import of prices from suppliersYes
Integration (web-API) with an existing siteYes
Internet site with an online storeYes
Integration with Nova PoshtaYes
Exporting the price for a third-party siteYes
SMS informing and mailingYes